Please follow and like us:
Anal sex toys are becoming more of a part of many couple's sex lives today. Couple's that are mixing this in with their sexual encounters are finding it's a very enjoyable experience. ​​These toys are designed to stimulate the anal regions of male and female users.​​ Take yourself to a new level of stimulation that is out of this world!
These toys come in a variety of shapes, sizes, textures, colors, materials and offer vibrating or non vibrating. There is no right or wrong one to choose from its all on preference.
​Anal sex toys may be used during solo play or in sexual interactions with one or more partners.​  
​Anal sex toys are typically used with anal lubricant which makes insertion more comfortable.​​​
---
​Materials
​Anal plugs are made of a variety of materials, just to mention a few, jelly rubber, silicone, glass and stainless steel. Different materials can bring really unique sensations since each one of them has its own signature properties.​​
Stainless steel: Can be used for temperature play, feel really smooth on the skin, but they are heavier and are not completely flexible.
Glass: ​Is very beautiful and usually weighs less than metal toys, but it's important to make sure that they're made by responsible brands and that they're reinforced enough to stay intact and will not break. They are great for temperature play, hot or cold to change it up.
Silicone ​Is one of the most common materials when it comes to sex toys. Silicone is body safe, can easily be sanitized and they have a good amount of flexibility, which is important for if your new to anal play.
Just Starting Out Anal Trainer Kit
If you are new to anal sex, a training kit would be a perfect way to get started. Basically these sets come with 3 or more plugs that vary in size.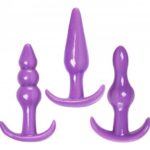 The first step would be is to pick out a training kit that starts small and gradually work your way up to the size you desire. ​
​This is a great way to begin experimenting with anal play. The top is round and tapered for easy insertion. They also have a flared base for safety so the plug does not get lost in your anal canal.​
Ideally you will want to increase the size of the plug. You have the option on a size you would like to move up to. You might never go up or maybe you will but just a size or two, its all your preference.
If you would like to see all your options for anal trainers click here
Butt plug
​Butt plugs are one of the most popular sex toys for anal play. A simple design that helps people enjoy hands free anal sexual pleasure for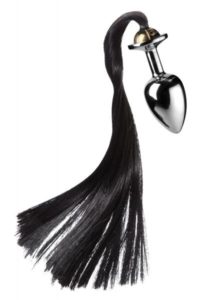 prolonged periods of time. They are arousing, sexually stimulating, feel good and ​they stay in place!
You can find these fun toys with lots of options to choose from, vibrating, non vibrating with different shapes, sizes and textures. There is also some that come with anal tails, if you are into that.
Since anal plugs are hands free they should always have flared base!​
​​Most plugs are tapered at the top and some get wider towards the base. You will notice some are designed with more of a bulbous head than others. The base is flared so that the anal plug does not get lost in your rectum. ​​
Some people use them as a dominance and submissive role play, and some find anal stimulation extremely pleasurable and use them to enhance their orgasms.
Click here to look at all the different options there are to choose from
Vibration is a feature that can bring new dimensions to anal pleasure. Vibration can help the sphincter muscles to relax, which is exactly what you want to be doing when you first insert them.​ ​
Anal Beads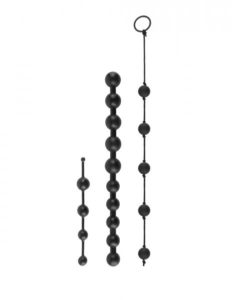 Anal beads consist of multiple smooth spheres or balls attached together in series which are continuously inserted through the anus into the rectum and then removed with varying speeds depending on the effects you desire. ​​​​Different styles create multiple opportunities for pleasure. They are best enjoyed when removed during climax.​ These beads come in a range of sizes.
​They can be used by both men and women to use when alone or with a partner. If the thought of putting something up your butt scares you, then anal beads are a great place to start. ​This toy is know as simple but also delivers powerful results.
If your interested in anal beads click here to take a look
Anal Probes
Anal probes are toys that are specifically designed for anal play. They are longer and thinner than a butt plug, and are generally thinner than a dildo.​ They feature a small suction cup base or handle at the end. Great for prostate massager, thrusting and perfect for both solo or paired play.
​They are also good for those new to anal toys as they are one of the least intimidating toys there are.​
Note: Most anal probes can be used vaginally as well!
Check out anal probes non vibrating, vibrating, with different textures and sizes
Everything Mentioned Above
This kit has everything that I have talked in this above article. If you are indecisive and don't know where to begin, this kit allows you to explore the amazing world of anal stimulation!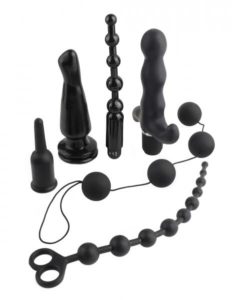 Features 6 unique pieces perfect for your first time anal encounter.  Try filling yourself with any piece during other sexual stimulation and you will climax harder than ever before! Every Anal Fantasy box features a free 5 Piece Prep Kit to help you ease into comfort and clean up afterwards. The kit includes 2 finger sleeves, anal desensitizing cream, anal lube, and toy cleaner.
Includes: 
Tushy Teazer insertable length 2 inches
Suction Cup Plug
Beginners Power Beads
9 Function Prostate Vibrator
Deluxe Vibrating Balls
Boyfriend Beads
For The More Advanced Player To Anal Play
​For those who like to push the boundaries​
​Giant Butt Plugs
For those of you who have become a anal expert, or are getting bored with what you already have! Large butt plugs are designed for the advanced who desire more pleasure and want more of a challenge. The ultimate backdoor bliss and extra thrilling stimulation that will take you to new heights. Make sure you use lots of lubrication.
WARNING: Using large butt plugs is only for advanced players, click here to take a look!​​
​Inflatable Anal Toys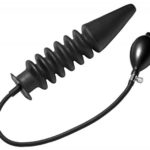 Inflatable toys work just like a balloon. They can be inserted while small and in their original size, and then pumped up with air to gently stretch the sphincters and muscles of the anal cavity. 
Inflatable anal toys are great if size turns you on and you want to safely experiment with stretching and fullness.
Inflatable anal toys are for people who are not new to anal play.
Anal Lube
​Lubricant is a must when using anal toys, to enhance your play and make it more pleasurable and fun for you!
Conclusion
Anal sex toys offer several different options for you to choose from depending on your level of experience and what you are looking for when it comes to backdoor fun! There is no right or wrong choice to choose from, it all depends on your level of experience and what stimulates you and your partner.
If you would like to take a look at all the options available for anal sex toys do so by clicking here
Please follow and like us: