Please follow and like us:
When people think of sex toys, they tend to think of them being used for solo play, but that is not true! Couples pleasure gift sets are becoming very popular today! Sex toys should be seen as an addition to your sex life. Playtime and experimenting in the bedroom has taken an all time high. These couples gift sets come in a variety of options to enhance and experience new pleasures together in the bedroom.
These gift sets can be used for a special date night, a weekend retreat, honeymooners, etc.. Whatever your destination is these kits are sure to satisfy your night.
Couples gift sets are perfect for adults, couples and lovers who want to heighten pleasure and happiness in the bedroom and beyond.  Also, great for beginners who are looking to spice things up in the bedroom!
Perfect For First timers, Has Everything To Experiment With
Mystic Treasures Couples Kit
Has absolutely everything to keep an adventurous couple busy. This kit is a great way to introduce sex toys and new ways of being intimate with each other. will bring in a whole new experience into your love making. This experience will sure add a variety of sharing pleasures and spice to you and your partner.
Includes:
2 Cockrings, can help keep you harder for longer periods of time
Multi-speed bullet
Oscillating duo balls, are usually used for sexual stimulation and for strengthening and exercising your pelvic floor
Butt plug with suction cup base, insert into the rectum for sexual pleasure
7 Inch multi-speed vibrator
Veiny dildo
Nubby shaft tickler tipped sleeve
Little Less Intimidating
Euphoria Kit of sensory stimulator
Entice your lover with the Euphoria Kit of sensory stimulator! A powerful, 5 inches variable speed slim vibrator is ready for when you want to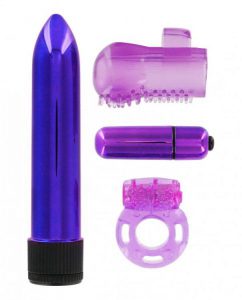 tease and please. A super stretchy, vibrating cock ring helps him maintain a firmer erection while stimulating you at the same time! This coupling is not complete without the addition of a bonus finger tickler vibrator. There is also an optional missile bullet that can be used in combination with the finger tickler or alone. Each exciting toy is waterproof so you can make it a date in the bath tub!
Includes:
Slim vibrator
Vibrating cock ring
Finger tickler vibrator
Looking For A Something A Little More Extreme-Bondage
Are you interested in bondage, but you do not know where to start? Another word for bondage is BDSM. Introducing you to the world of bondage allows you to use your wildest imagination.. Bondage allows you to experiment with your likes and dislike. People who incorporate bondage into their lives gain a lot of sexual gratification and pleasure. A partner may be physically restrained in a variety of ways, including the use of rope, cuffs, bondage tape.
A common reason for the active partner to tie up their partner is so both may gain pleasure from the restrained partner's submission. The one that is in charge is called the dominant partner. The other one that is on the receiving end are called the submissive partner.
Ultimate Fantasy Duffel Bag
We have put together the biggest fetish collection in the world with one goal in mind! To give you the best all in one-kit ever assembled so you can fulfill your deepest fetish fantasies! Turn your bedroom into an erotic playground and enjoy everything this incredible kit has to offer. We tried to think of everything so you will not have to. Cuffs to ball gags and everything in between, we have your fetish fix!
Includes:
Inflatable Position Master
Flapper Paddle
Bondage Tape
Rope Cuff
Cat O Nine Tails
Hot Wax Candles
Love Mask
Vibrating Sex Ball With Inflater Pump
Door Jam Cuffs Hand Cuffs
Bondage Belt
Tether Set, Ball Gag
Feather Streamer
Nipple Clamps
Strap on
Moist Lubricant And Toy Cleaner
Fifty Shades Freed Pleasure Overload 10 Days Of Pleasure
This is a great starter kit for those of you who want to experiment with bondage. Fifty Shades Freed Pleasure Overload 10 Days of Play Gift Set.  Mystery doors reveal sensual pleasure toys and bondage play accessories. Items for him, her and both of you to enjoy. A fabulous shared gift to open up new adventures together. The perfect introduction to sensory and restraint play.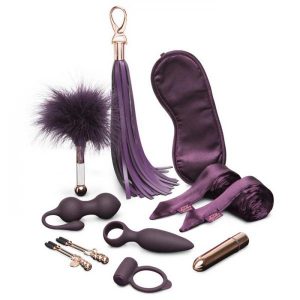 Includes:
Whip, enhance the erotic moment by offering a unique sensation
Blindfold
Feather tickler
Butt Plug
Vibrating cock ring, helps with staying harder longer and the vibrations is for clitoral stimulation
Bullet vibrator
Ben Wa Ball, are used for sexual stimulation
Satin restraints
Restraint Play
Experience all levels, explore tie and tease! Are you new to bondage? Then this set is perfect for you.
Under the Bed Restraint System 
Turn any size bed into a place of binding pleasure. Restraint straps quickly fit beneath any mattress or frame without hooks. Restrain your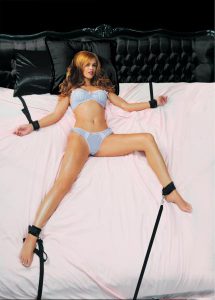 partner's arms or legs from the sides or the top and bottom of the bed. Portable and travel sized.
The Under The Bed Restraint System includes four cuffs, four 60 inches restraint straps, and one 60 inch connector strap.
Simply slide the restraint straps under the mattress for an instant bondage bedroom.
There are multiple ways to position the straps. Use your imagination and restrain your lover for more fun!
Each 60 inches strap adjusts to fit any size bed.
Would you like to see all the available options and pick your style of bondage page by clicking here
Something A Little Less Extreme With Out Toys
Kama Sutra The Getaway
Not ready to experiment with toys, this Kama Sutra massage gift set is perfect for getaways, honeymooners or those of you who don't enjoy using toys or maybe just trying to mix it up. Light a candle and get ready for a memorable romantic night and enjoy the new exciting pleasures with your partner that it will bring. Great traveling companion perfectly sized under 3.4 oz to meet flight regulatory standards.
Includes: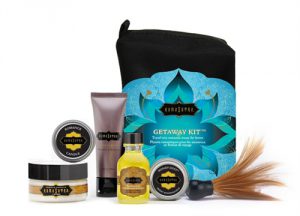 Reusable carrier case with Kama Sutra logo zipper
French vanilla crème body souffle
Vanilla crème oil
Honeysuckle honey dust feather applicator
Liquid water-based lubricant
Candle
Shunga Erotic Art Tenderness And Passion Gift Set
Shunga Erotic Art Tenderness and Passion Collection a lovers celebration! All that is needed to obtain passion through tenderness. This sensual kit includes Erotic Massage Oil, Intimate Kisses Aphrodisiac Oil, Sweet Snow Body Powder and a hand made feather tickler! All in a Strawberries & Champagne flavor.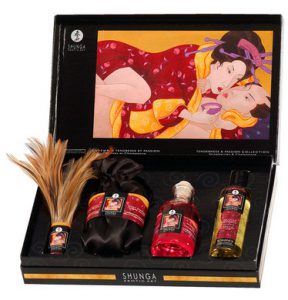 Packaged in an erotically decorated gift box, a collection of sensually scented and flavored delights to enhance a romantic evening. Indulge your sexy desires with an erotic assortment in Strawberries and Champagne.
Includes:
8 ounces massage oil with a handy flip top cap
3.5 ounces edible Intimate kisses aphrodisiac oil in a glass and cork jar
5.2 ounces Sweet Snow Edible Body Powder in a silky pouch
Handcrafted feather tickler
Ingredients:  Massage Oil may contain Almond, Grapeseed, Sesame, Avacade, Safflower oils, Vitamin E, Ylang Ylang, Fragrance. Aphrodisiac Oil may contain Glycerin, Propylene Glycol, Flavor, Sodium, Saccharine, FD& Blue #1, FD&C Yellow # 5, FD&C Yellow # 6, FD&C Red # 40, Body Powder may contain Modified Starch, Corn Starch, Baked Honey, Aspartame, natural and/or artificial flavor.
A Personal Lubricant To Prolong And Stimulate
JO 2 To Tango Pleasure Kit For Couples
System JO 2 Tango Pack. A pleasure kit for couples. The perfect union of prolonging and stimulating. Prolong his desire, stimulate her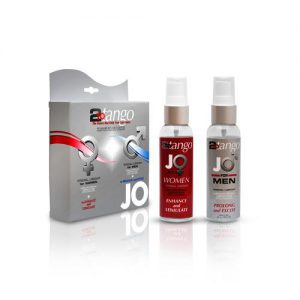 pleasure, enhance your total experience. It takes two to create an intoxicating spark of passion. It takes 2 to Tango to ignite it.
A personal lubricant for her to enhance and stimulate. Silky smooth with a tingling sensation.
A personal lubricant for him to prolong and excite. His lubricant contains a numbing agent to help extends a man's pleasure plus a warming sensation.
Perfect for couples practicing safe sex with latex condoms. Safe. Oil free formula is 100% latex condom compatible. Together they create an electrifying connection. System Jo Personal lubricants for couples. Made in the USA
Kama Sutra Aromatics Assorted Massage Oil Travel Kit
Kama Sutra Massage Tranquility Kit
This is a great for a weekend trip get away, it lets you take your romance with you! TSA approved sizes are perfect for travel. Try all of five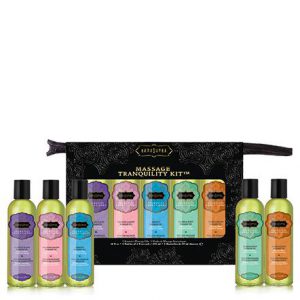 blends of Kama Sutra Aromatics Massage Oil with this travel kit, also includes five a zippered travel case. Made with essential oils, these rich, emollient formulas makes it a pleasure to give or receive a romantic, full body massage, wherever you go.
Massage Oil Scents:
Serenity essences of marjoram, geranium and lavender a calming blend created to ease stress and release tension. Pleasure Garden combines rose, jasmine and sandalwood a euphoric floral blend designed to promote feelings joy and release inhibitions. Sweet Almond a classic blend of sumptuous sweet, almond oil. Harmony Blend essences of juniper, pine, lavender and rosemary a soothing, rejuvenating remedy for the mind and body. Soaring Spirit sensual blend of essential oils of orange, lemon, mint, geranium, ginger, fennel and rose. Made with essential oils and skin nourishing Vitamin E. Ultra moisturizing and silky smooth for the perfect full body massage.
Multipurpose Use:
For sensual massage pour oil into your hands or directly onto your partners body and massage the oil into their skin with slow, even strokes.
As a daily moisturizer massage oil into your own skin after a bath or shower for smooth, hydrated skin all day long.
For the bath pour into running bath water. Let the essential oils guide you to a state of deep relaxation as you soak. Emerge with smooth, silky skin. Made in the USA.
Edible Body Play Paints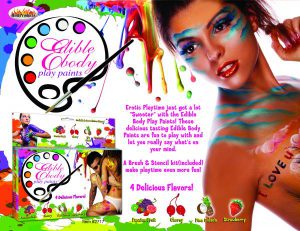 Take your intimate play time to new adventure! Have fun with these body paints! Erotic play time just got a lot sweeter! Delicious tasting Edible Body Play Paints are fun to play with and let you really say what is on your mind. Write your most inner desires on your partners body, and explore intimate fun in a new sexy way! Non staining, non toxic water water based formula.
A brush and stencil kit included, make play time even more fun! 4 delicious flavors passion fruit, cherry, pina colada, strawberry body paint.
For Those Of  You For Pride Play
Rainbow Triple Play Butt Plug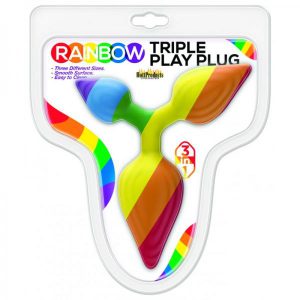 The rainbow is a symbol of lesbian, gay, bisexual, and transgender pride and LGBT social movements that has found wide use on thousands of products as a show of LGBT identity and solidarity
Express yourself with the colors of the rainbow and show your pride. Make your friend or partner smile. Express yourself and enjoy it.
Have fun with this colorful anal plug and enjoy what your fantasies will bring you. Rainbow Triple Play Butt Plug is the perfect little tushy toy which allows the user to from gentle to extreme during intimate anal play. The smooth contoured shape and super soft material easily slips in without any discomfort and will leave both you and your lover more than satisfied and coming back for more! 3 in 1 Butt Plug.
Rascal Toys The Brawn Pride Cock Ring Rainbow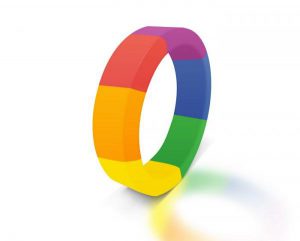 Cock Rings helps a man maintain an erection for intercourse. It is worn at the base of the penis and works by constricting the blood flow out of the penis while allowing blood to continue to flow in.
This beautiful, powerful, and stunning Brawn Pride Cock Ring features all 6 colors of the pride flag rainbow. This cock ring is made of 100% soft touch silicone. Made for comfort and durability with a soft feel and non-roll design. Its thick girth ensures a more powerful erection.
The 3X stretch allows for 1 size to be used over cock, balls or both.
Size: Inner diameter is 1.75 inches, outer diameter is 2.5 inches.
Lix Rainbow Oral Vibrator
This Vibrating Tongue Ring is a anodized titanium plated, powerful, battery operated, micro massager that is perhaps the most intriguing and exciting gift you may every buy for that special someone. Oral Vibrator is quiet, safe, vibrating, powerful, massager.
Please note this item is for pierced tongues.
Pierced Barbell Accessory. Custom Anodized Titanium, Surgical Stainless Steel Barbell Tongue Ring, 16 Gauge 1.2mm, 5/8″ Length, 316 L Surgical Grade Stainless Steel.  393 Batteries: 2 #393 Watch Batteries. 2 free batteries included in package.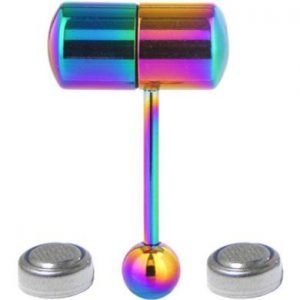 For Her, Nipple Play
Nipple play can be pleasurable for some women. Not every women will be stimulated in the same way, as the same with the clitoris and all erogenous zones. Toying with, stimulating, manipulating, using the nipples is another way of foreplay to achieve sexual satisfaction.
Hers Intimate Kit
Multi-use, fully adjustable vibrating clamps. High intensity wireless motor with easy push button control. Waterproof for use everywhere. Silky smooth Satin Finish.
Includes:
2 soft, squeezable nipple suckers. Incredible suction for increased sensitivity. Flange base for extra suction.
3 multi-use, fully adjustable designer clamps for infinite possibilities. Sturdy, high quality beads for added sensuality. Soft, comfortable pads.
2 non-piercing nipple accessories. Non tarnishing, nickel free. Safe and pure for body and pleasure.
Vibrating clamps
Try Experimenting With Backdoor Fun
Explore your back door. Discover the pleasure of anal play with toys in all shapes and sizes! If your just starting out I suggest starting with the beginners anal kit before moving on to advanced play. Beginners kit will start off with smaller and graduated sizes. Butt plugs are the most common for beginners as they are easy to use.  Anal sex toys are typically used with anal lubricant which makes insertion more comfortable.
Anal toys are used by heterosexual and homosexual couples.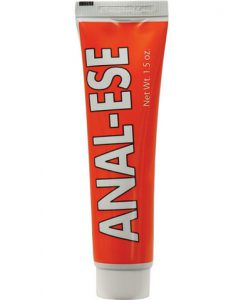 Anal Ese Cream Desensitizing Lubricant Cherry-Anal Lubricant
Lube is an absolute necessity when it comes to any form of anal play. The anus doesn't produce any natural lubricant. Anal lubes are thicker and longer-lasting than regular lubes, making them much more effective when it comes to anal penetration. Some anal lubes also contain numbing agents like benzocaine to take the edge off your senses so you can focus more on the pleasure.
One of the best selling anal desensitizers, Anal-Ese is designed to bring less pain to anal pleasure for both men and women.
This anal desensitizer is cherry flavored
Many people enjoy playing with larger and more intense toys like dildos, prostate massagers, anal vibrators, or anal beads.
Prostate Play
Prostate is often referred to as the 'male G-spot'. A lot of men say orgasms that come form prostate stimulation create longer, more frequent and leads to more intense orgasms! Sex is about feeling good and exploring what you like. Some men enjoy prostate stimulation on its own, others need to include the penis in their pleasure.
Regular prostate massage reduces the risk of prostatitis, prostate cancer, genital pain, symptoms of erectile dysfunction and frequent nighttime urination. In addition, it improves overall erectile function and increases seminal fluid and circulation.
Intro To Prostate Kit 4 Piece Black
Unlock the secret pleasures of prostate play with this kit that moves from beginner to advanced with every stimulating stage in between. Four satin soft toys in luxurious silicone progress from gentle bulbs and beads with hands free suction cups to erotic cock ring & prostate combination play. Dr. Ava's Guide to Prostate Play will teach you everything you need to know along the way, and all the toys are fully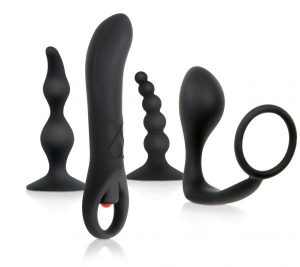 waterproof and submersible, so have fun in the bath or shower!
Includes:
Free downloadable guide
Lube
1 Vibrating prostate massager
1 Cock ring with anal plug
2 Prostate massagers
If you would like to see all the different options you have to choose from for gay play click here
Anal Play Trainer Kit
Juli Ashton Anal Beginner Kit 
Ready to explore the anal world? Who better than an expert to know what's best for a beginner? That is why the Juli Ashton Anal Beginner's Kit is so popular. This collection of items help you explore anal sex. Start small, and work your way up. Use only water-based lubes.  Made from a soft gentle pink rubber by Juli Ashton, an expert on anal stimulation. Let the anal training begin!!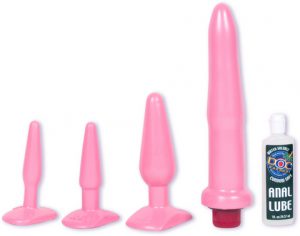 Includes:
Small Gentle Plug 4.25 inches by 1 inch
Medium Gentle Plug 4.75 inches by 1 inch
Large Plug 5 inches by 1.5 inches
Soft flexible vibrator 7 inches by 1.5 inches
Anal Lube 1 fluid ounce
Games For Lovers
Need to spice up your sex life, try one of these sex games to make foreplay extra steamy. Sex should be fun and games encourage playfulness and sexual intimacy. Adult games add a variety to foreplay and is a easy way to bring something new to your bedroom. Because sex should be fun, and there's nothing wrong with a playfulness sex game together!
Weekend In Bed Card Game
Let the adventure begin! Whether you spend the weekend at home or in another romantic location, you and your lover can always spend it in bed! Make that time together more exciting and passionate this weekend!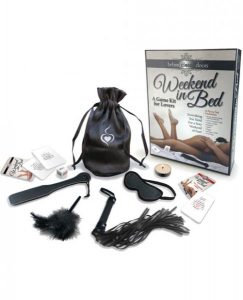 Includes:
2 Adult card games
Satin carry bag
Paddle
Feather
Blindfold
Flogger
Candle
Board Game
Casino Boudoir Adult Board Game
Casino Boudoir is an adult game for adding romance to any bedroom. Enjoy the thrills of casino gambling with your lover. The games are the same as popular casino roulette, craps, blackjack and slot machine play but the rewards are much more intimate. Earn sensual and sexual rewards during game play and redeem your chips at the end of the game for favorite sex positions that are printed directly on the chips.
Includes:
20 Standard casino chips with unique sex positions printed on them
1 Roulette wheel
1 Roulette betting table
1 Marble
1 Couple's casino craps table
2 Standard craps dice
1 Red number marking chip
1 Custom BJ blackjack poker deck
54 Slot machine game cards
Click here to see all the variety of adult games for lovers
Summary
Adult sex toys for couples are bringing a whole new pleasurable experience to the bedroom today. Sex toys increase the pleasure time for couples as much as they would for singles. These wonderful couples pleasure gift sets have something for everyone, try out several depending on your playful mood. There is variety of sets to choose from, beginners for those of you just starting out, massage kits, adult toy kits, anal fun, games etc.. If you would like to see more please click here to see a variety of options to choose from.
                   Remember when using toys always wash your toys with warm water and soap or a toy cleaner.
Please follow and like us: