Please follow and like us:
G Spot glass and glass anal dildos are a growing trend when it comes to sex toys. They are one of the most sanitary and easy to care for materials, its hypoallergenic glass also allows you to experiment with hot and cold temperatures. Glass dildos are made from impact resistant highly tempered glass and known for there durability and elegant appearance.
Glass toys are extra firm, great for G Spot pleasure and come in all different shapes and sizes, with or without textures.
They work very well with any type of lubricant or just your own juices.
Glass Anal Plugs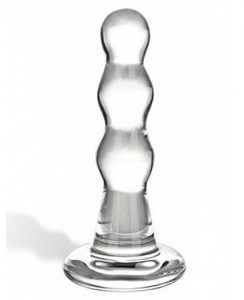 This is just one of many options to choose from this anal beads butt plug is hypoallergenic glass and has a wide base for safe anal play. Have a little fun with this try to heat things up with warming up your glass plug or to experiment around a little bit and try putting it in the freezer for a whole new sensation.
Product Specifications:
Length: 3.94 inches.
Width: 0.75 inches.
Click here for some other options of glass anal plugs that you can choose from
Glass rose anal plug
Big glass butt plugs
Helmet head
Bunny tail
Viewable-internal viewing
G Spot Glass
If you are looking for a glass dildo that is going to hit your g spot you have a lot of available options to choose from. Its on preference one is not better than the other. You can experiment around to find out what pleasures you best. What's nice about glass you have the option to warm up your glass dildo or put it in the freezer for a different kind of pleasure.
With or with out texture
Double headed dildo
Double sided-G spot one end use the other end as an anal plug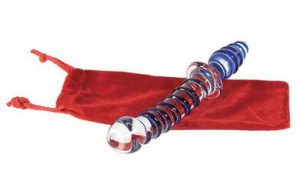 Vibrating Glass Dildos
Do you already have a rabbit vibrator?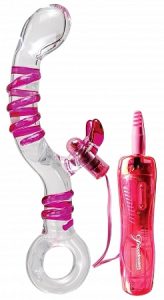 There is nothing like vibrating glass dildos! If your a rabbit kind of girl looking for a whole new feel this is the vibrator for you. Warm up your rabbit or put it in the freezer to mix it up for different pleasures. This elegant rabbit has amazing attention to detail.
Product Specifications:
Length: 9 inches.
Width: 1.25 inches.
Circumference: 4.25 inches
Summary
Glass dildo are very easy to use and clean up. They are hypoallergenic and last for a very long time. People are turning to glass for hygienic reason. You have a variety to choose from, butt plugs, anal beads, curved, straight thin, wide, vibrating, double headed, textured or non textured. There is no right or wrong choice. Click here to see more glass dildos.
Remember to always wash your toys with warm water and soap or a toy cleaner
Please follow and like us: