Please follow and like us:
The prostate gland is also known as the G spot or more appropriate the P spot. Among men this is becoming a popular sexual activity, not just for gay men. A prostate massaging toy for men is designed to help stimulate the prostate to help you into having of an incredible orgasm. Take yourself to a new level of stimulation that is out of this world! These toys come in a variety of shapes, sizes, textures, colors, materials and offer vibrating or non vibrating. Majority of these toys are curved for the purpose to reach the prostate easily. There is no right or wrong one to choose from its all preference.
Down below is some of the variety prostate massagers have to offer.
Beginners Prostate Massager Kit
If you are new and just starting out a G-Spot massager kit is perfect for beginner to advance. You will discover the pleasure each toy has to offer to stimulate your P-Spot. With this kit you get 4 satin soft toys made from silicone. Work your way up to the more advanced toy that vibrates to add intensity that leads to mid blowing orgasms.
Dr. Ava's Guide to Prostate Play DVD will teach you everything you need to know along the way, and all the toys are fully waterproof and submersible, so have fun in the bath or shower!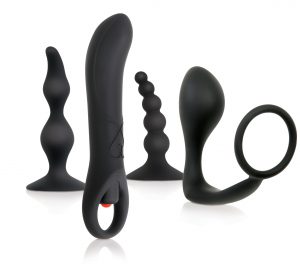 What's Included With Your Kit:
• 1 Non-vibrating prostate stimulator with graduated beads for relaxed prostate exploration. 3.50″ length, 3″ insertable, 1″ wide
• 1 Non-vibrating prostate stimulator with flexible silicone yields to body curves with suction cup at base for hands-free pleasure. 4.50″ length, 4.25″ insertable, and 1.25″ wide.
• 1 Non-vibrating prostate stimulator with stretchy cock ring. Supple shaft allows for flexible positioning. Cock ring 2″ wide, 1.50″ long. Prostate stimulator 3.75″ insertable.
• Vibrating prostate massager with wide girth for advanced prostate play. 1 speed vibration. 5.60″ length, 3.75″ insertable, 1″ wide. 1 AAA battery (not included).
Pleasure Wand-Prostate Masturbator And Scrotum Massager
This is one of the most uniquely designed men's toys from Doc Johnson. The pleasure wand is a prostate masturbator and scrotum massager that is ergonomically shaped to fit so right. The powerful vibration on this waterproof wand is controlled by a velvet touch multi-speed controller. Flexible PVC construction allows for a firm yet supple massager that delivers massaging action to the most remote regions of the male anatomy. To top it off, since everyone likes their balls to vibrate, we shaped the wand with a tip that will snuggle between your balls and deliver excitement to your two best friends. So come on down and sit on one of these Men's Pleasure Wands & you'll be glad you did.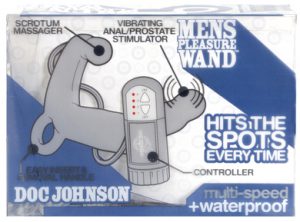 Glass G-Spot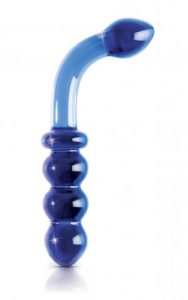 Pipedream's elegant, upscale, and hand-crafted with amazing attention to detail, this luxurious line of glass massagers will leave you breathless. Each hand-blown Icicle glass wand is sleek, unique, and made to play hard. The hypoallergenic glass is nonporous and body safe, and when cared for properly, is designed to last a lifetime. Run the wand under warm water or place it in the microwave to heat things up. Chill it under cold water or put it in the freezer for a cool sensation.
Summary
As you can see there is a variety of options to start out with. One is not better than the other, it all depends on your preference. Some people prefer glass because of the smoothness. Where others like vibrating over the non vibrating. Check out all the options you have to choose from by clicking here to see them all.
Click here to see all your glass dildo and G-Spot Stimulators options to choose from
Remember to always wash your toys with warm water and soap or a toy cleaner
Please follow and like us: