Please follow and like us:
For all those women and men out there that are asking What is A G Spot Vibrator?! Yes, Men also have a G spot!
G spot vibrator is a sex toy that is used for men and women it stimulates and gives you a more intense orgasm with yourself or a partner. The female sex toy is made to massage your G-Spot in your vagina, which is referred to as a bean shape. For the male the sex toy is inserted into your anal canal to reach your G-Spot also known as your prostate. It is used for massaging the prostate for both sexual and health related reasons.
What does a G-Spot Vibrator Look Like
It's easy to tell what a g-spot vibrator looks like by its shape.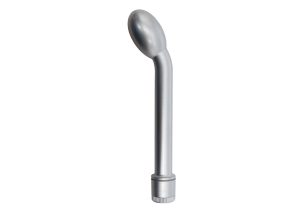 The g-spot vibrator has a unique curve and round head at the end of vibrator so it can reach your g-spot. The round head is larger than that of a vibrator, and its head is more like the size of an actual penis.
There are many different features that can add to your stimulation, the length, size and texture etc..
The Female G-Spot
The G-Spot on females is not all the same because everyone's body is a little different from one another. Almost all G-spot vibrators have the curve on the end to reach and stimulate the g-spot. Women are a little different then males they usually need to have a direct clitoral stimulation with sexual penetration to have an orgasm. In addition the g-spot vibrator can also be used to directly massage the clitoral for stimulation.
This is cute yet powerful and G-Spot targeted! Made with silicone and the perfect size for beginners or also use for travel.
Product Features: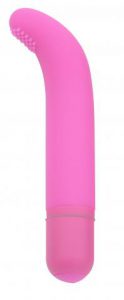 Length: 5.5 inches.
Width: 1 inches.
Waterproof
Multiple Functions
Vibrates
Pulsates
Escalates
10 unique functions
The Male G-Spot
The G-Spot on males is known as the prostate gland. A male G-spot vibrator is curved has a round head that fits snug into the anal canal to stimulate the G-spot and produce an intense sexual sensation.
Prostate massaging is becoming very popular for its health benefits to the prostate and its intense sexual pleasure it gives. Benefits in using the g-spot vibrator is its use for massaging the prostate to help in removing the fluid inside the gland.
Amazing quality of this silicone g-spot vibrator combines a unique multi-patterned vibrator will be take you to limits you have never imagined.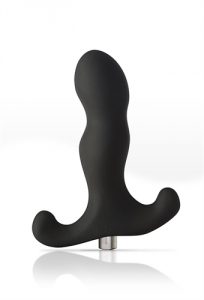 Product Features:
Length: 5 inches
Width: 1.25 inches
Waterproof
Multiple Speeds
Multiple Functions
Vibrates
Pulsates
Summary
Once you get to know G-Spot vibrators they are easy to use. They come in different shapes, sizes and textures depending on your preference, but all are designed to stimulate your g-spot. You can use these toys with yourself or a partner. I'm sure you will find exactly what you are looking for with the wide variety of G-spot vibrator by clicking here.
Always remember to wash your toys before and after use with warm soap and water or a toy cleaner.
Please follow and like us: